Alberta Chess Association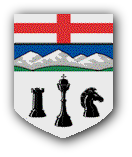 Welcome to the Alberta Chess Association!
The Alberta Chess Association is a non-profit organization dedicated to the promotion of chess in Alberta. We are affiliated with the Chess Federation of Canada and provide support to players and organizers province wide.

We gratefully acknowledge the support we receive from the Recreation and Physical Activity Division of Alberta Culture and Tourism!

ACA Contact Info
Executive Director: Vladimir Pechenkin
Phone: 780-913-2775
email: albertachess@gmail.com

ACA News

May 2: FM Ian Findlay won the 11th Edmonton International Qualifier
Ian scored two critical points on the second day of the tournament and finished clear first with 4.5/5. He thus earned a spot in the main event of the 11th Edmonton International festival. Nic Haynes and Omid Malek tied for second with 4/5.

April 28: Alberta Seniors Championship in Calgary
FM Ian Findlay and Brad Booker tied for first with 4/5. Thanks to the better cumulative tie-break score, Brad won the title and a $1,000 travel grant to participate in the 2016 Canadian Seniors Championship. Jim Daniluk finished third with 3.5/5. Final standings are on the tournament website.

April 10: Alberta Chess Challenge
The tournament was held in Red Deer on Saturday, April 9. The winners are: Colton Rostoker (grade 1), Anand Rishi Chandra (grade 2), Vishruth Sharma (grade 3), Paul Wang (grade 4), Andi Superceanu (grade 5), Ian Zhao (grade 6), Andrew Xu (grade 7), Jeff Wang (grade 8), Chenxi Wu (grade 9), Raphael Libre (grade 10), Diwen Shi (grade 11) and Dave McCullough (grade 12). Final standings are now available on the event webpage.

April 4: FM Ian Findlay won Lethbridge Open with a perfect score
John Quiring finished second with 4/5, and there was a six-way tie for third. A total of 28 players participated in this annual event. Final standings are available on the tournament webpage.

March 28: Alberta Championship is concluded
Bitan Banerjee drew his last two games and finished clear first with 4/5. Second place went to Gary Ng (3.5/5), while FM Dale Haessel ended up third (2.5/5).

March 26: Bitan Banerjee leads the Alberta Championship with 3/3
Gary Ng is second with 2/3 and will have White against the leader in round 4. Rob "Rocket" Gardner leads Alberta Reserves with 3/3 and will have White against Butch Villavieja (2.5/3) on Sunday morning.

March 25: Alberta Championship is underway
All three games in round 1 were decisive: FM Haessel - Ng 0:1, WIM Matras-Clement - Banerjee 0:1, FM Pechenkin - Valencia 1:0.

March 16: Junior Chess in Edmonton
Edmonton Chess Club will host a Junior tournament on March 19. View the event flyer for more details.

March 14: March of Kings Tournament in Calgary
Congratulations to Behrooz Ebrahim-Shirazi on taking clear first with 4.5 points.
Junior Jeff Wang tied with NM David Miller for 2nd-3rd with 4.0 points.
CCC returnee Dustin Rogers taking U2000 first with 3.5 points.
Four-way tie for U1800 1st-4th with 3.0 points: Art Milne, Brian Timmerman, Gerald Pfeffer and Ian Zhao. Finally, a 5-way tie for U1400 1st-5th with 2.0 points: Luth Gallesmaso, Andrew Chen, Arul Papenja, Vishruth Sharma and Anand Chandra; all juniors.
Prize money in cheques and cash for U1400 may be collected at the CCC any Tuesday from 7:00 to 11:00 PM, any Thursday from 7:00 to 11:00 PM, or any Saturday from 10:00 AM to 1:00 PM.
Final Standings

March 9: Alberta Chess Challenge
The tournament will take place at Lindsay Thurber school in Red Deer on April 9.

March 1: Calgary Chess Challenge (Grades 1-12)
The tournament will be held at the Calgary Chess Club on March 19. Details and pre-registration available on the ACA website.

February 28: Belsar Valencia is perfect at the Northern Alberta Open
Belsar won the tournament with 5/5 and thus qualified for the 2016 Alberta Closed. Nic Haynes, Rob Gardner and David Miller shared the second place with 4/5. The following class prizes were awarded.
U2200 1st/2nd: Erik Tam, Kim Nguyen and Omid Malek - 3.5/5.
U2000 1st/2nd: Atheer Jawad and Arthur Milne - 3/5.
U1750 1st: Bhavik Dave - 3/5; 2nd: Brad Kroeker, Suresh Kadavil and Peter Pisanski - 2/5.
U1600 1st/2nd: Leonard Relling, Jordan Rohatynski and Prayus Shrestha - 2/5.

February 23: University Battle of Alberta
University of Alberta hosted this year's edition of the event. Grant MacEwan team led by David Miller participated in the Battle for the first time. The tournament was an 8-round Swiss Open played with an active time control. As usual, students from the same university did not play each other.
The rating favorite Bitan Banerjee (U of A) scored 7.5/8 and took clear first. David Miller and Sardul Purewal tied for second with 7/8.
Photos from the playing hall as well as from the Saturday chess night out are available on Facebook.

February 21: Alberta Youth Chess Championship in Calgary
Final standings may be viewed on the event webpage. The winners are: Ron Offengenden (U8), Mark Ivanescu (U10), Ian Zhao (U12), Kaixin Wang (U14), Mohamad Fellah (U16) and Diwen Shi (U18).

February 6: Alberta Active Championship in Red Deer
16 players participated in this year's edition of the event. IM Ian Findlay and Nic Haynes tied for first with 4/5. FM Dale Haessel and Omid Malek finished half a point behind. Final standings are on the tournament webpage.

February 6: Edmonton Seniors Championship
Gerald Aspler won the tournament with a result of 3/4. Robert Brazeau, Sardul Purewal and Terry Seehagen tied for second with 2.5/4.

January 26: Road Warrior in 2016
The ACA Board of Directors has changed the structure of the Road Warrior program at the ACA Budget Meeting. New regulations are on the Road Warrior page.

January 13: ACA Budget Meeting
The next ACA Board meeting will be held in Red Deer on January 24. Financial proposals may be submitted to albertachess@gmail.com by interested parties by midnight, January 18.

January 12: John Schleinich Memorial Sectional
The 2016 edition of the annual event featured 4 sections of 6 players. In Section A Jim Daniluk demonstrated strong performance and was close to taking clear first. However, with the last round win Vlad Rekhson managed to catch the leader; both winners thus ended up with 3.5/5. Section B was dominated by Jerry Kobalenko who scored 4.5/5. Mohamad Fellah finished second with 3.5/5 and turned out to be the only player who drew the winner. Section C ended up with another tie for the first place between Steve Sklenka and Frank Kluytmans (3.5/5 each). Finally, in Section D the winner was Raphael Libre (4.5/5), while the second place went to Arul Papneja (4/5).



Archived News: 2015 2014 2013 2012 2011


Recent tournaments
Lethbridge Open
April 2-3, Lethbridge
Organizer: Jerry Mikusek

Alberta Chess Challenge
April 9, Red Deer
Organizer: Alexey Taranik

Red Deer Open
April 16-17, Red Deer
Organizer: Alexey Taranik

Alberta Seniors Championship
April 23-24, Calgary
Organizer: Frank Kluytmans
Calgary School Championship
April 30, Calgary
Organizer: Vlad Rekhson
Edmonton International Qualifier
April 30-May 1, Edmonton
Organizer: Micah Hughey


Upcoming events


Vugar Gashimov Memorial
May 14, Calgary
Organizer: Frank Kluytmans

33rd Trumpeter Classic
May 21-22, Grande Prairie
Organizer: Wade Caughlin

Alberta Susan Polgar Invitational Qualifier
May 21-22, Calgary
Organizer: Vlad Rekhson

Calgary International Qualifier/Fundraiser
June 4-5, Calgary
Organizer: Vlad Rekhson

11th Edmonton International
June 18-26, Edmonton
Organizer: Micah Hughey

Edmonton International Open
June 24-26, Edmonton
Organizer: Micah Hughey

---