Alberta Chess Association
2017 Edmonton Fall Sectional

Sponsored by the Alberta Chess Association and the Edmonton Chess Club

October 27-29, 2017

Edmonton Chess Club
#204 10840 124 Street, Edmonton, AB T5M 0H3
780-424-0283

Organizer: Micah Hughey
mhughe@rocketmail.com
(780) 807-6365

Tournament Director: Mike Zeggelaar

Tournament Flyer

Format: Six player round robins. No byes allowed. CFC rated; the top section will also be FIDE rated.

Time Control: Game in 90 minutes, 30 second increment from move 1.

Entry Fee: $30 before October 20, $35 after that. Free entry for GM/IM/WGM/WIM title holders.

Full refund is available if requested before October 23.
CFC membership is required and can be purchased on site. Annual membership is $43 for adults, $28 for juniors. CFC tournament membership $21 for adults, $11 for juniors.

Registration and process of payment: No on site registration. You must pay to register. Payment must be received by 7 pm, Monday, October 23, when the official registration closes. After that entries will only be allowed to make all sections consisting of six players or for replacements.
In Edmonton you can pay Micah Hughey or Terry Seehagen either by cash or by cheque made out to the Edmonton Chess Club. Otherwise, send a cheque to the Edmonton Chess Club at the address above. E-transfers available to mhughe@rocketmail.com.

If all the sections are full, pairings will come out on the evening of Monday, October 23. Otherwise, pairings will be done on Thursday, October 26.

Schedule
Round 1: Friday, October 27: 7 PM
Round 2: Saturday, October 28: 10 AM
Round 3: Saturday, October 28: 3 PM
Round 4: Sunday, October 29: 10 AM
Round 5: Sunday, October 29: 3 PM

Prizes: 100% of entries minus ACA dues of $5 per paid participant. For the top section, the Edmonton Chess Club guarantees a $300 first prize. (Second prize is $50).

Section formation: Players will be slotted into sections according to their rating. CFC ratings published on October 18 and FIDE ratings published on October 1st will be used; the higher of the two will be assigned to each player to form the sections. Unrated players will be assigned a rating of 1500 for sectioning purposes, unless the organizer decides otherwise.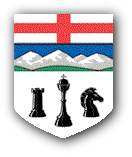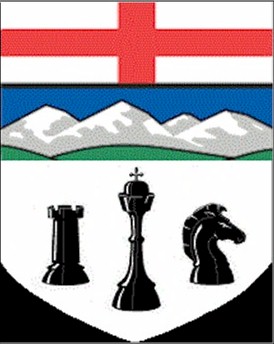 This is a
Road Warrior
event!